COMPUTA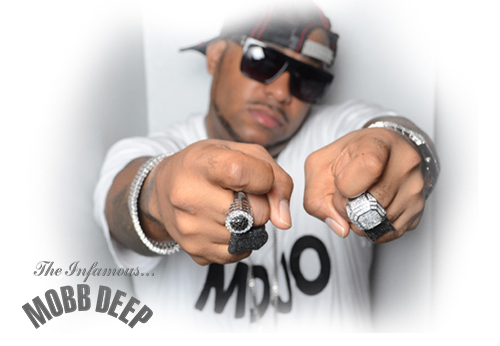 Rap is a musical genre constructed lyrically through the lives of America's traditionally "bad stepchildren". Add the age of digital madness to that metaphor and you get Computa, New York City's latest lyrical wizard. When this forceful emcee is in the booth, his dynamic flow is said to embody artists such as Nas, Jay-Z, Rah Kim, KRS1, and Havoc. Computa has had the urge to stand out since day one- getting his name from James Cameron's character in the movie Terminator, he was stated as saying "I wanted to stand out from everybody […] I knew I would be the only one in the game brave enough to call myself Computa."
This twenty-eight year old Harlem born, Bronx raised emcee has put massive work into the industry. He got his first shot on the indie label Select Records (Responsible for the success of Chubb Rock, MOP, The Real Roxanne, Utfo, and Kid N" Play, among others) along with label mate from Brooklyn, rapper Papoose. In the summer of 2001, Computa took his talent nationwide and made his debut on the silver screen in Boricuas Bonds, which starred Big Pun and Treach. Then, in the aftermath of September 11th, Computa composed the benefit single "Ground Zero". Computa, along with fellow rapper Cash, produced this song as a tribute to all those who lost their lives on that fateful day. With great success, "Ground Zero" reached the number 3 spot on the Billboard's Hot Rap Singles chart. The song maintained its position for 10 weeks and reached number #1 on the "Rap Attack" charts and garnered an NAACP image award nomination. In 2002, Computa's single "I've Seen It All" (featuring his uncle Tito of "The Fearless Four") appeared on the Motown/Universal soundtrack for the John Leguazamo film, Empire along with tracks from Fat Joe, Mobb Deep, and City High. Actor John Leguazamo later on used Computa' s catchy chorus phrase "I seen it all, eight balls, converted to keys" on the hit TV sitcom E.R. Computa has worked with DJ Envy, Gunplay, Fabolous, Juelz Santanna, Havoc, Harlem World, and Lou Divenchi, to name a few. In 2004, he launched his mixtape entitled "Emerald City" with his cousin Unkasa, a member of Purple City, and hip-hop music group, Dipset's own Juelz Santana. That same year, Computa's brother Base and cousin C formed their own set: Team Aura; in which Computa was named the Vice President. Computa and Base were featured on Harlem Piff's "Dipset Famila" with Cam'ron, Jim Jones, JR Writer and Hell Rell. Computa Quotes: "Anybody who's somebody I know 'em!" In 2006, this versatile M.C. went on to record his two hit singles "Strip for Me "and "Fitted Sideways" featuring S Class (BMF Producer).
Looking up to peers such as Rick Ross, 2 Chainz, Wale, and Meek Mill, it's no wonder this NY based rapper has started a riot as he's moved through the industry since 2001 and he still manages to set himself aside from the other New York City rappers; he states: "I try not to be so NY based and concentrate on being a artist without staying in a New York genre."  Computa has gone on to form his own company GangLion Records. The Gang stands for the family and the Lion represents the lion of Judah. Along with the new company comes a new single. "My A's is Up" is set to release in October 2012 worldwide. Computa had this to say about the new single and his vision for 2013 "My A's is Up is about your aura. It comes from my grandfather, a very spiritual, powerful man. I judge people based on their aura and the song basically describes how you feel and your energy. My vision for 2013 is to be apart of one of the biggest record companies. I'm looking to dominate music, bring a different element to the game, and raise the bar musically/lyrically. I just want to deliver a new aura of music." 
This is a monstrous movement as Computa doesn't use any profanity in his music, but still he seems to infectiously captivate all listeners into Gang Lion's overwhelming aura. In the future Computa sees himself being one of the most influential, sought after, richest rappers in the industry. He definitely has not forgotten all the love he has received from the ladies and can assure you that his new music will accompany a new sex appeal to match.
A lion at heart and spirit; a hip hop and musical historian, Computa has made his permanent mark in the music industry.
To stay connected with Computa, please visit the following: